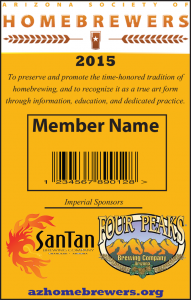 Discount Card –
Arizona Society of Homebrewers has been an active member in the community since 1995. Over the years we have developed great relationships with the local homebrew shops, breweries, and tap houses. Every membership includes the ASH Discount Card. Enjoy discounts such as "all day happy hour prices", 10% off, $1.00 off per pint, and more. For more details, check out our Discount Card page.
Member Only Events –
ASH holds member only events on a regular basis including happy hours, educational classes, and more. Our most popular events are the member only homebrew festivals. Annually we host SpringFest, OktoberFest, and a Holiday Party. These events are free to every member and their families.*
Member Only Homebrew Competitions –
ASH holds three member only mini-competitions a year. these single style comps are a great excuse to brew something an unfamiliar style. Prizes are awarded for the mini comps and often sponsored by a brewery. Participants earn points toward ASH Homebrewer of the Year and its grand prize.
Monthly Meetings –
Our monthly meetings bring the local homebrew community together giving the opportunity to share our beers, our knowledge, and techniques. We often have guest speakers who share their methods; from head brewers to product engineers, helping you learn all the ins and outs of your craft. Meetings can be attended in person for Full Access members, and are available virtually via Zoom for both Full Access and Virtual Only Members. Meetings are recorded and made available for all active members. Sign up for a Full Access or Virtual Only Membership, today.
For information regarding the new membership level offerings, please see 

this blog post

.
*Due to permit restrictions alcohol consumption permitted to current members only, designated drivers welcome.