These are your 2018 ASH Board candidates. Elections will be held Dec. 16 during the ASH Holiday Party.
Todd Bennett, candidate At-Large, Outreach & Community Relations

Hello, I'm Todd Bennett and I was the 2015 At-Large, Outreach & Community Relations person. I coordinated many ASH involved festivals and really got to know many of you two years ago. Moving forward to this year, I'll work with the Board and you to coordinate any festivals and ASH events in the coming year.  Also, I'd be your ASH representative at local establishments to get our name out to those who don't know us very well or at all.  Also, I'll listen you you, as I have in the past and try and make volunteering easier.
Mark Guin, candidate At-Large, Special Projects

Hi, my name is Mark Guin. I've only been a member of ASH for about 3 months. I started home brewing about a year and a half ago. Actually, I brewed one batch back in the early 1990's but when shared my beer with our friends at a party their reaction was mostly like "ya, that was OK but do you have any Budweiser or Miller Lite". It didn't seem like it would be much fun if there wasn't anyone to share my brews with. So the brew kit which my wife had given me as an anniversary gift sat on a shelf & collected dust for many years. Awhile back, I started sampling various craft beers when we would go out to happy hours etc. with our friends here in Arizona. My wife Chris suggested that I try making beer again. I got lucky and my first brew turned out to be pretty decent and this time around friends asked for seconds. That was it! I had the bug. I want to get more involved in ASH. I want to learn about beer, styles, techniques, the process etc. I hope to make some new friends thru ASH. At the meeting held at Stainless Brewing I threw my name in the hat for the Board Position – Special Projects. I don't really know anyone yet but I believe that I can make a contribution to the organization. I have a positive attitude and one of my strengths in my work is tackling special projects. I'm good at assessing circumstances, situations, work areas etc. and making an action plan. I like ideas along the lines of bus trips, events and other fun activities. I'm also interested in learning more about ASH's position regarding an actual physical location- a place where members can come together to brew beer and share their skills and passion for brewing. Even if I'm not elected to the Board at the present time, I will definitely help ASH in any way I can in 2018. I really enjoy brewing beer. I know I have a lot to learn and thru ASH I've already seen that there are a lot of people in our area who love the art of brewing and are willing to help fellow aspiring brew masters.
 Keith Mycek, candidate Vice President

Hello, my favorite ASHoles. My name is Keith. Those of you that came to any general meetings in the past three years might have seen me scramble around beforehand, frantically setting up AV equipment or scanning cards at the door. In the last three years, I have devoted my software and fabrication skills to several ASH projects. I am passionate about our club. We also have many passionate members of the club who speak at our meetings. One of my goals in the last two years was to capture that great knowledge – so that members current and future can benefit. I have enjoyed my time as the Operations Member at Large – and hopefully my efforts have made the club a little better. But now I feel that the club is at a crossroad. Home brewing clubs have always had a bunch of turnover. But now, with the ever increasing availability of great craft beer, less of our ASH brethren have returned to their brew stands to stir the pot and spend the time it takes to make and share this wonderful thing we know as homebrew. I don't care if we ever achieve the number of members that we have had in the past three years. It is my goal to serve the dedicated ASH members who continue to brew after all these years (aka "lifers"), and support our newer members – who might be questioning their decision to ferment quality beverages at home. It is at this critical time in our history that I feel the desire to assume a greater leadership role in our club. I will still help out where I can with capital improvements – but I would be honored to serve as your Vice President – supporting our next President of ASH (POTASH, as known internally). Thank you, in advance, for your vote and for your support. I encourage anyone that enjoys what we have built here, to join me by volunteering for any of our committees. Together, with your help, we will continue to be the best homebrew club in the country – neigh, the world…
Christian Schrader, candidate At-Large, Education

No candidate statement provided.
 Paul Vincent, candidate Treasurer

Paul Vincent received a brewing kit for his birthday in 2009 and has been an avid brewer ever since. Paul is a seven-year ASH veteran and is currently the ASH 2017 Treasurer.Paul has been employed by one of the top 5 U.S.-based banks for the past 25 years and has a deep understanding of financial systems. He believes the position of ASH Treasurer is a perfect a melding of his career learnings with his passion for craft beer.Paul brings to this position a passion for the art of brewing as well as a respect for all styles of beer. He has a consistently unique range of home brews on tap and enjoys most bringing people who don't consider themselves "beer drinkers" to a new world through tastings and sharing his knowledge. As the current treasurer, Paul brings consistency and transparency to managing the club's financial needs.
 Carvin Wilson, candidate President

I have been home brewing and making mead for over ten years, joining AHA and ASH in 2013. During this time, I have worked with ASH in various capacities in regards to financial stability and sponsorship program, and of expanding the knowledge base and technical skill level of the club members. I have served as a volunteer, BJCP certified judge, steward, and offered my personal time and resources to help the club any I could. As President, I want to incorporate some new ideas while keeping the mission of ASH alive. I'm open and willing to discuss all ideas to make sure the ASH community grows. I understand that this will not be an easy task, as I have received feedback from many members. I would like to see ASH focus more on our club members and build stronger relationships with local companies. I think this can be done without losing sight of ASH's mission and understanding there is a strong desire from members who want to see ASH maintain some type of club house.ASH has a great legacy of amazing board members, I hope to add my name to that list and help the club grow and achieve its mission.
Rob Wolinski, candidate Communications Officer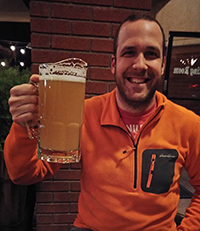 Rob has been home brewing since 2013 and transitioned to all-grain about 1.5 years ago. Although he hasn't won any medals lately, Rob feels that his home brew is improving and that is truly due to the information he has received from ASH. As communications officer for the past two years Rob has worked to keep the website updated, including moving it to a new platform to save ASH $160 a year. If you vote Rob as a continued member of the board, he wants to focus on ensuring the members voice is heard, keep our content quality high, and keep our operating budgets low. Prost!