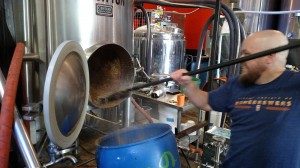 In late 2015, ASH partnered with Imperial Sponsor O.H.S.O. Eatery + Brewery in Paradise Valley, to launch the UnleASHed Series, a monthly collaboration brew with proceeds benefiting various local dog rescue charities.
Each month, the board selects a handful of deserving ASH members, who demonstrate high participation at club events, to brew a beer with the pros at O.H.S.O. (which stands for Outrageous Homebrewers Social Outpost) on a dedicated ASH fermenter. The pro-am brew crew works on a recipe together to prepare for brew day.
Brew days and tappings are on the first Saturday of each month. Proceeds from sales of UnleASHed series pints benefit rescue organizations, such as Surrender Souls, 2nd Chance Dog Rescue and Valley of the Sun Giant Schnauzer Rescue.
You can taste the UnleASHed brews at OHSO or brew the recipes at home yourself!
Want to brew an UnleASHed batch with OHSO?! Sign up for the ASHional Guard and volunteer at ASH and sponsor events!