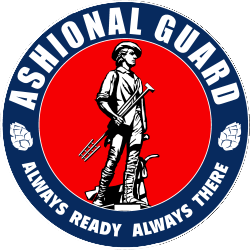 What is the ASHional Guard? Is one of the most common question we get when our members are sporting their swag at local events and festivals. The ASHinoal Guard represents all of our amazing members when they come together as a club and volunteer their time. You may have seen them around at events like Strong Beer Fest, AmeriCan Festival, SanTan Oktoberfest, and many others.
Why use ASHional Guard? For breweries, tap houses, and other beer related industries; the ASHional Guard brings qualified members of the Arizona beer community to your event/booth. When hosting your event or staffing your booth at an event we provide Knowledgeable personnel in the craft of brewing beer, experts in proper pouring, certified judges, Cicerone's, and more. Also, homebrewers are generally adaptive to unique and adverse situations with the ability to improvise solutions to issues that traditional event staff may not overcome.
For more information on having ASHional Guard support your next event send an email to the ASHional Guard Director.
Sign me up! If you would like to become a member of the ASHional Guard, we welcome everyone, even non-members. Please click here and fill out the necessary information to be added to our ASHional Guard mailing list and receive updates on upcoming events.